What is the project about?
This project was started at the beginning of 2022 as a way to bring visibility and awareness to transgender people of all forms. Transgender can be mistakenly thought of as a binary concept in which a person has to transition from one binary gender to the other, aka male to female or female to male. Stigmas surrounding the community have pushed a belief that a transgender person is only valid if they transition fully with the use of hormone replacement therapy (HRT) and gender confirming surgeries. While some transgender people transition in this way, I am seeking to bring to light that transgender is an umbrella that covers an array of identities; and that each is unique, beautiful and fully valid. My goal is to illustrate that the only true way to transition is the way that is best for each individual person. Participants in this project have been photographed as they are, showing the world that they are completely valid in their unique and diverse transgender identity and presentation. All participants have contributed their personalities, their identities, their compassion, and their desire to see a world that truly accepts and loves them for the beautiful humans that they are.
How can I become involved?
If you are a transgender individual and would like to participate in the portrait galley, simply message NV either on social media or here on the website.
Participation is complete free!
We will meet up and capture a photographed portrait of you, as you feel most euphoric.
If you are in or near Columbus, OH, I have a home studio that we can use to capture your portrait. If you are in another state, I will host open portrait days when I travel with the exhibition.
The gallery will continue on across the country and will continue to capture more and more individuals.
Tax deducible Sponsorship opportunities are available through our fiscal sponsor, Franklinton Arts District
If you are an organization that would like to get involved or would like to learn more, please contact Mx. Vincent-Natasha Gay by email at photography@vincent-natasha.com. You can also follow along via Instagram at @nv.gay and @mx.gay_photography
How is this project different from other Transgender galleries?
"This is Trans" is a project that was built upon two fundamental ideas; education and inclusion. Other transgender galleries and projects have done an incredible job beginning the discussion and showing the world that being transgender is beautiful. This project seeks to break down stigmas that have plagued the transgender community and bring together the incredible diversity within the community. Several participants in this project joined in because they had been told that they are not transgender for multiple reasons; but mainly due to the gatekeeping within the community. To be transgender was thought to be a person who needed to transition socially and medically from one binary gender to the other, aka male to female or female to male. To be validated as a transgender person, you had to pass all of the necessary tests, socially live within the binary gender norms, and have all medical procedures including surgeries and hormones. While it is true that some transgender people do live authentically like this; it is completely false to mandate that all transgender people must live this way to be valid. This is Trans seeks to show that being transgender is an umbrella term, and simply means to identify differently than the assigned gender/sex you were assigned at birth. This includes a wide array of beautiful and diverse individuals, who only seek to live authentically and be validated for their transgender identity.
What is Transgender?
Transgender is an adjective used to describe a person whose gender identity is different from their sex assigned at birth.
Traditionally, the thought was that to transition, a person must undergo hormonal, surgical, and societal changes in order to conform to the societal "gender norms."
Now; there's no set formula for a transition. Some transgender children and adults are happy to express their gender identity without any medical steps, while others want to change their anatomy to match how they feel and how they want others to view them.
"The correct way to transition is the way that is best for you." - NV Gay
Christianity and Transgender
Christianity and other religions have not been traditional allies to the Transgender community. This must be changed!
The church has earned a reputation for being anti-LGBTQIA+. In some cases, the church has been openly hostile to LGBTQIA+ people, treating them like outcasts rather than siblings and children of God. In other cases, the church has remained silent rather than follow the example of Jesus. As a result, LGBTQIA+, straight, and cisgender Christians have left the church or have given up on their faith because they feel unsafe, unable to engage sincere questions, and unwelcome from communities where they can authentically grow in their faith.
The church can do better.
WE can do better.
WE MUST DO BETTER.
Learn more with our proud partner
Be an Ally
The main question I receive is how I can be a better ally to the transgender community
As a human being, it is our responsibility to be respectful to all people, regardless of gender, sex, culture, race, religion, etc.
Three Main Steps
Be Respectful
Learn and Understand
Advocate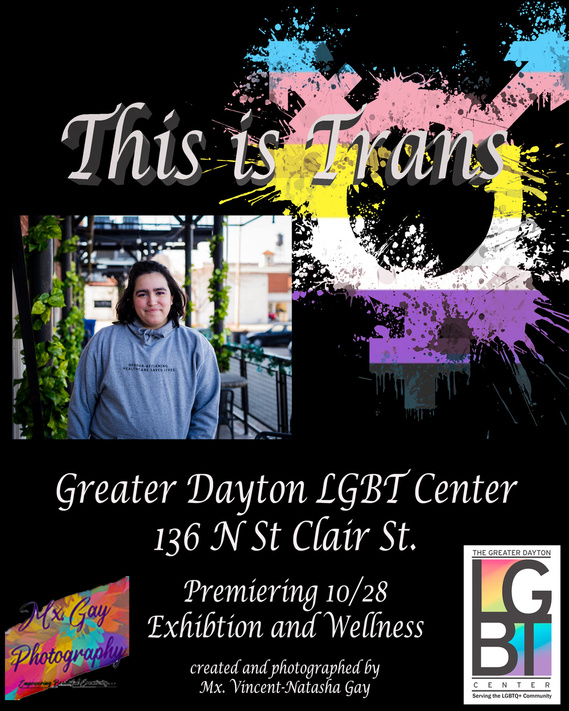 Schedule Exhibitions:
Now Travel all across North America
Currently on Display:
Scott Galvin Community Center - North Miami, FL
Gravity Events Center - Columbus, OH
Coming Soon!
All Trans Revue, Wild Goose Creative - Columbus OH (September 29, 2023)
Otterbein University - Westerville, OH (October 4, 2023)
LOVEboldly Conference 2023 - Columbus, OH (October 14, 2023)
Columbus FAP Festival - Columbus, OH (October 20, 2023 3pm-4pm)
Stand with Trans, 2023 Trans Empowerment Month - Virtual (October 30th, 2023)
Greater Dayton LGBT Center - Dayton, OH (October 28, 2023 - November 30, 2023)
Mr. & Mrs. Trans USA - Milwaukee, WI (November 3rd - 5th, 2023)
Bridgewater College - Bridgewater, VA (November 20, 2023 - December 9, 2023)
Interested in hosting an exhibition, email me today!
Interested in bringing the Project to your Organization?
There are many ways we can make this happen!
Exhibitions can be done as an open gallery hosted at your location, as lectures presented in person or virtually, as educational experiences, as professional development for your company, and many more!
I have been working with Franklinton Arts District to provide a new 503c tax deducible sponsorship program for businesses who would like to become involved with the project. The program will help fund the continuation of this project through 2024, as well as provide incredible professional development for partnering companies. Interested in learn more? Please reach out!
This exhibition is needing your help!
The best way to help is with donations. This project is funded by people like you.
Please help by giving whatever amount you can.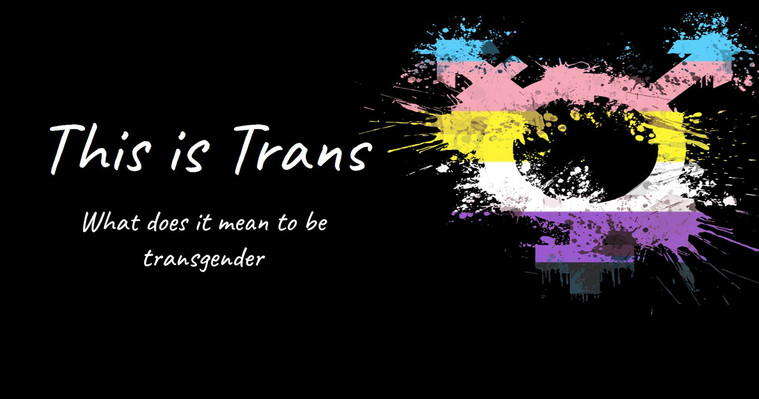 This is Trans: the presentation
Now available as a educational training and presentation. This is a great way to bring the project to your business or event while also educating views on what it means to be Transgender.
These presentations can be scheduled with the exhibition or separate
Interested in learning more. Click here!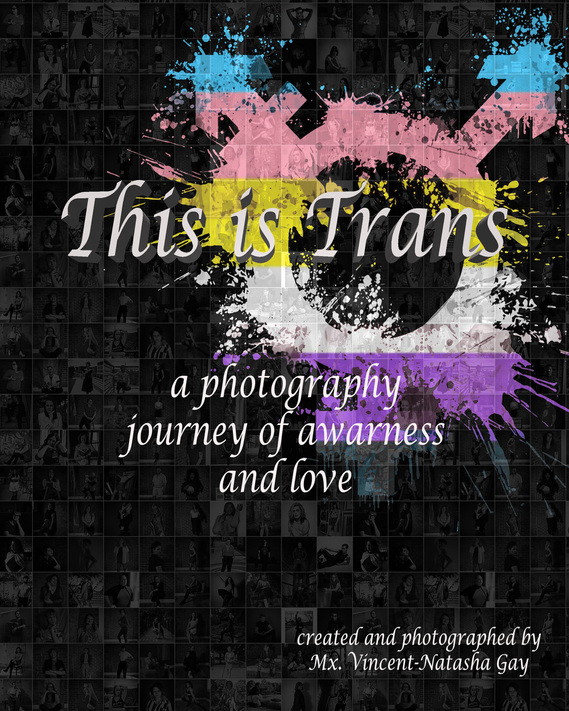 This is Trans Coffee Table Book
This is your opportunity to own the incredible exhibition for yourself. This book contains all participants of the exhibition, as well as their answers to the question,
"What does being Transgender mean to me?"

This book is a great piece for you to continue the work of the exhibition, and raise awareness for the transgender community and educate people on what it truly means to be transgender.
Purchase here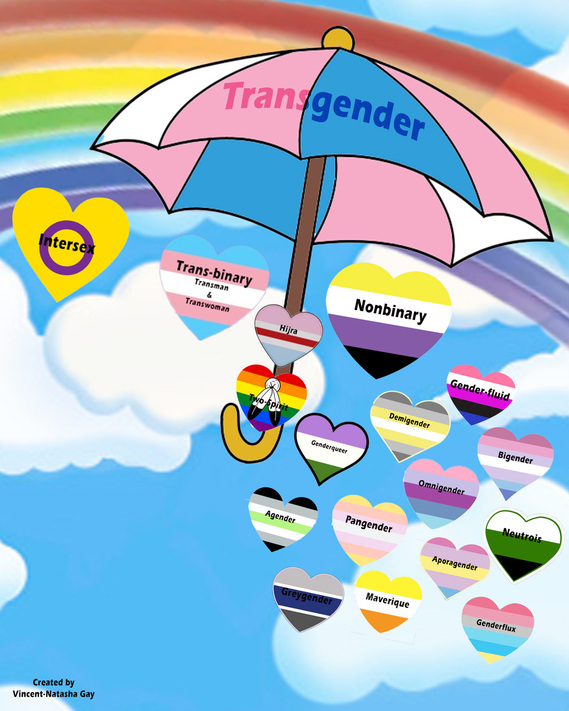 Free Download
This poster is a great way to provide transgender educational and inclusion lessons where ever you would like!
The poster illustrates the inclusion and diversity of the transgender community, with transgender referred to as an umbrella with many beautiful and unique genders underneath of it. All gender shown underneath the umbrella are valid transgender gender identities. Not all transgender gender identities are shown in the poster, as there are so many that exist. Intersex is shown half way underneath the umbrella because some.
Some Intersex individuals identify as transgender and some do not. That is determined by the individual person and how the were assigned their gender at birth. Some intersex individuals do align with the gender they were assigned at birth (male or female) and some feel that their gender does not align with the one assigned at birth.
To download for free, click here!
Below are just some of the portraits in the gallery, along with their answer to the question
"What does being trans mean to you?"
Own the Artwork from the Exhibition
To purchase, click "purchase here" under each piece or click here